NEWS
---
JAMES MOFFATT LEAVES UNSILENCE 27/12/17
This is old news so I apologige. Back in August, our bassist James Moffatt parted ways with us due to personal reasons. He has withdrawn from music including The Human Condition. We'd like to thank James for the contribution that he made on our last album. Although he has been in the band for five years, the lack of activity has only allowed him the one recording. It's a pity he won't be joining us for future activity and that we never got to play live him, which I'm sure would have been a step forward for us.
We will be looking for a new bassist, although there is no urgency right now.

---
ECHOES AWAKEN DEMO + EXTRA TRACKS NOW ON BANDCAMP 02/07/17
We have now uploaded the Echoes Awakned demo to our Bandcamp page. It was initially a pre-production demo of what became our debut album 'Under A Torn Sky'. But we decided to make the recordings available on our MySpace page and as a free CD at our live shows.
We Initially didn't publish this demo on Bandcamp as all the songs were on our 'Under A Torn Sky' debut. But they are different recordings, in particular, 'The Last Day' has some different vocal arrangements and lyrics. And there was also an unreleased track called 'Wilderness'. This is also the only recording to feature Andy McLachlan on drums, so its inclusion is a testimony to the four years he was with us.




---
RIC BARNES RIP November 26th 1974 - 7th February 2017. 08/02/17
Our first drummer Ric Barnes sadly died yesterday, aged 42.

Ric got in touch during late 1993 to drum in my previous band Burial just as we finished, but agreed to drum for Unsilence and he played on our first two demos (1994's "Shadows Cast In Stone" and 1996's "An Unfinished Chapter"). He stood down as our drummer in March 1996 but stayed to be our keyboard player. He eventually left a few months later. Throughout most of the time with us, he also played in Mephisto alongside David Greenwood who would eventually join us.

Ric was a presence in our early days, both musically and with his eccentric humour. He really laid the foundation which others built on. RIP November 26th 1974- 7th February 2017.
(Kieron)

---
PRESS PAGE UPDATE: ELYSIUM FANZINE INTERVIEW 10/10/16
We are featured in the latest edition of Elysium zine from Germany.

The zine is written in German also features interviews with: Akelei, Bathsheba, Caskets Open, Circle of Tyrants e.V., Cosmic Wasteland, Cross Vault, Dawn of Winter, Griftegård, Iron Rainbow, Ironsword, Mirror of Deception, Northwinds, Orne, Petrified, Primordial, The River, Seeds of Doom, The Misery Show, Serpent, Tenhi, Voodooshock / Naevus, etc. Sounds like an awesome read!

It's 86 pages, limited to 222 copies, professional printed in black and white, A4, price €2 + €1 shipping (Germany) / €3,70 shipping (International). It can be obtained from:
vandrare@gmx.net

An English version of our interview is now in our press section.


---
NEW UNSILENCE T-SHIRTS OUT NOW 10/10/16
The new Unsilence T-shirts depicting the design of our most recent album" A Fire On The Sea", have been out for a few months now. Go to our merchandise page and order.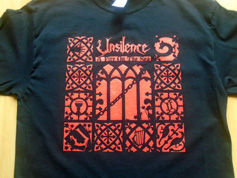 ---

BURIAL RETROSPECTIVE OUT NOW (KIERON'S EX-BAND). 05/02/16
BURIAL was a death metal band who were active between 1991 and 1993. The UNSILENCE guitarist Kieron Tuohey was a member. As was the first bassist Mick Grundy and our first guitarist Ric Harding (For Burial's last few months). The Spanish based label Dark Blasphemies have recently released a retrospective. Titled "Burial Exhumed", it features their two demos (1991's Void In Time and 1992's Optical Mass) and 7" (1992's Effigy - originally released through Infest Records).
The album can be obtained from Dark Blasphemies for €10 http://www.darkblasphemiesrecords.com/web/index.php/store/product/view/3/1034
We are also selling some copies for £8.50 (UK), £10.00 (Europe), £12,00 (ROW). Order with PayPal at: kieronunsilence@googlemail.com I will also accept well concealed cash old school style. And for streaming and purchashed downloads for €7, click the Dark Blasphemies Bandcamp link below

.
---

THE HUMAN CONDITION - 'PATHWAYS' DEBUT ALBUM AVAILIBLE NOW. 31/01/16
THE HUMAN CONDITION, which of course is the band featuring our former drummer/present stand-in drummer,Jonathon Gibbs (On guitar) and also our guitarist Kieron and our bassist Jay, have got their debut album out now. Titled 'Pathways', it is only present to download for £5.00 from theirBandcamp page. But a CD release is expected soon.
---

PRESS PAGE UPDATE, etc. 29/01/16
We have added two pages with reviews of our "A Fire On The Sea" album to the reviews section.It has been a quiet year for us mainly with James' coursework and fatherhood. But we have been working on new material and hope to resume some activity this summer.We also plan to finally do some new T-shirts with the cover of our most recent album, "A Fire On The Sea" during the next month. The colour scheme of the T-shirt image will be a single colour -simpler than the album cover as that would be a nightmare to reproduce. See below.

We will be sure to keep you updated on the T-shirts.
---

PRESS PAGE UPDATE, etc. 19/05/15
There has been an update to our press page. We have included an English version of our recent interview with the Ukrainian based Athmosfear Magazine. And also our other recnet interviews with Doomantia (USA), Hellride(USA), Robex Lundgren Music Blogspot (SWE). We will soon include all the reviews of 'A Fire On The Sea'.
In other news, our guitarist/vocalist James Kilmurray became a father for the first time this year. Congratulations to him and his family. Due to this and his college course, thewre won't be much activity in the band this year. But we have started writing again and there is the possibility of some gigs next year.
We're also planning to get some T-shirts done with the latest album cover.

---

NEW ALBUM NOW AVAILIBLE FROM THE BAND. 16/07/05
We now have some ciopies of the new album to sell. Go to the album's page for more info.

---

NEW UNSILENCE WEBSITE 16/07/14
So, here we are at the new Unsilence website. The fourth version since the site started at the end of 1999. This has been designed with the increased use of smartphones and tablets for internet browsing. If you have any feedback then please contact us.
---

'A FIRE ON THE SEA' NOW AVAILABLE FOR DOWNLOAD 10/07/14
Our new album is now available to download from the Nine Records Bandcamp page for $7 USD.

---

'A FIRE ON THE SEA' NOW RELEASED 07/07/14

Our new album is out now. It can be ordered from Nine Records.


http://nine-records.pl/index.php?route=product%2Fproduct&product_id=518

We will be getting some copies to sell, hopefully by next week. The album will also be up for downloading from the Nine Records Bandcamp page (It won't be downloadable from ours).
Also, the new Unsilence website will be online in the next week.
---
A FIRE ON THE SEA The new album from Unsilence, out now on Nine Records (Poland). Availible on CD and download, click here to order.

UNDER A TORN SKY

The debut album from Unsilence, still available on CD, Vinyl and download. Click

here

for more info.